The Hawai'i Healthy Aging Partnership (HAP) is a statewide coalition of more than 60 partners, dedicated to embedding evidence-based health promotion programs in Hawai'i's Aging Network.
Led by the Executive Office on Aging (EOA) and Department of Health Chronic Disease Branch, HAP was formed in 2003 to improve the health of older adults through two scientifically proven, evidence-based programs. Currently HAP offers:
Better Choices Better Health (BCBH), which is a 6-week self-management workshop developed and tested by Stanford University. The workshop does not replace prescribed treatment plans; instead, it augments and supports those plans. Program participants learn skills to help them manage their health conditions and interact with their health care providers.
Enhance®Fitness, which is an ongoing group exercise program designed for older adults. The program meets three times per week for activities that consist of cardio, strength, balance and flexibility exercises. These classes are led by nationally certified fitness instructors. Program participants have shown improvements in upper and lower body strength, balance and mobility, and increasing number of days spent exercising, and have also experienced fewer falls.
HAP believes that making health promotion programs widely available to older adults will help prevent and delay the onset of chronic diseases and control the burden of chronic diseases in Hawai'i. HAP serves as an important linkage between clinical support for patients and community resources for lifestyle change.
HAP goals are to:
significantly increase the number of older adults and adults with disabilities to participate in evidence-based programs; and
implement innovative funding arrangements for sustainability while embedding into an integrate evidenced based program network.
The Center on the Family provides statewide coordination support for HAP and evaluates program activities. This project is funded by the EOA.
For more information, please contact:
Michiyo Tomioka, PhD
Evaluator/Coordinator
Co-Principal Investigator
mtomioka@hawaii.edu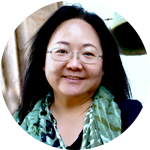 Sarah Yuan, PhD
Co-Principal Investigator
sarah.yuan@hawaii.edu